Special

Internet-Only
Offer on BIO-X4
Availability: IN STOCK

Home Delivery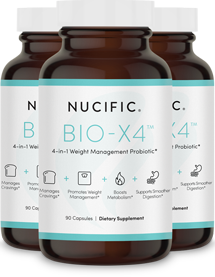 1 Bottle
Regular Price: $99
$49
FREE SHIPPING IN THE U.S.
THIS IS A ONE TIME PAYMENT
THERE ARE NO MONTHLY CHARGES
Add To Cart
6 Bottles
Regular Price: $594
$240
FREE SHIPPING IN THE U.S.
$40 per bottle.
You Save $59 per bottle.
THIS IS A ONE TIME PAYMENT
THERE ARE NO MONTHLY CHARGES
Add To Cart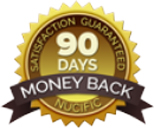 If you're not 100% satisfied with BIO-X4 you are covered by our 90 Day Money Back Guarante. Within 90 days, contact our customer support team and we'll refund your purchase price, no questions, no hassle.
How Nucific Bio-X4 Works
Helps Manage Unhealthy Cravings†*

Caralluma Fimbriata has been found to help ease appetite and unhealthy cravings — a major step toward achieving the body you want.

Promotes Weight Management†*

EGCG, a natural compound found in green tea, has been found in numerous studies to help boost your metabolism, which can help your body burn more fat.

Supports Smoother Digestion†*

Three key digestive enzymes — Amylase, Lipase, and Bromelain - help break down the foods you eat, unlocking the nutrients and easing digestive issues.

Twelve billion CFUs, from 5 powerful Lactobacillus and Bifidobacterium strains of probiotics, help ensure smoother, more comfortable digestion.

Boosts Metabolism†*

Our unique probiotic formula helps balance your gut bacteria, which can affect your metabolism and energy levels.

EGCG has also been found to help boost metabolism and help you enjoy more energy.
*All individuals are unique. Your results can and will vary.
Frequently Asked Questions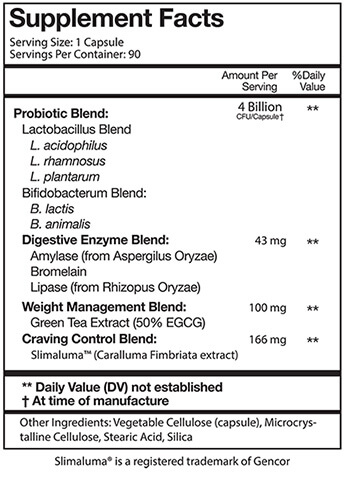 How many bottles are recommended to order?

The majority of our customers enjoy taking advantage of the discounted three bottle option. For those who wish to share with their families, we recommend investing in our even lower discounted 6-bottle option.

Can I use BIO-X4 even if I have dietary restrictions?

BIO-X4 is made up of quality ingredients. They are gluten-free, allergen-free capsules. As always, we recommend checking with a doctor before starting a new supplement.

How do I take BIO-X4?

For optimal results, take 1 capsule of BIO-X4 with each meal – breakfast, lunch and dinner. Supplementing each meal with digestive help that assists in processing your food and extracting an optimum amount of nutrients helps give your body the tools it requires to operate at its peak level of performance.†*

What will happen if I miss a day?

Preferably, you want to take BIO-X4 consistently on a daily basis, to allow your body to build up a prime level of enzymes, nutrients and beneficial bacteria. If you happen to miss a dose, or even an entire day, just continue as normal the next day.

How long should I expect to wait before I see results?

Everyone's digestive system is a bit different, however, I feel you should give BIO-X4 at least 60 days to fully get to work, and there is a 90 day moneyback guarantee.†*

Can I purchase BIO-X4 in stores?

Because BIO-X4 is brand new, it's not available in stores. Currently, this is the only place where BIO-X4 is being sold.
*All individuals are unique. Your results can and will vary.